Please fill out the Order Form Page(PDF document,WORD document) completely, print and send it to us.

If you send us your used hair piece, we can make an exact copy of it and send it back with your new hair piece.

International order

- We are able to accept an order from all countries.(U.S.A, Canada, Australia, Germany etc.,)
- Our products are available to all international customers.

To make a template

- To make a template, please Click Here .
- If further details are required, please do not hesitate to contact us.
- We shall be pleased to send you any further information you may need.



Base style
- You can choose a hair piece base sample, Click Here to see base samples.
- We can make any designs that the expensive retailers use.
- If you have any good ideas of base, please do not hesitate to let us know.
- When you talk to a progressive hair consultant, we can discuss the base
that will be best for you.

Hair type
- 100% chinese human hair, Indian Human Hair or Synthetic hair (Kanekalon)
- We will use 100% finest human hair, gray hair is synthetic.
- You can request 100% of one or the other or a mixture of both.

Hair color
- We need your hair samples, please send us your hair samples.
- Take them from several areas of your head and label each one, telling us what part of the head it came from.
- Tell us if you want highlights on any section of the head, because some people want it to look like they have been out in the sun a lot.
- Please attach your hair samples on special orderform.
- If your sides are more Grey Hair, clip a sample.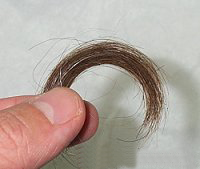 Hair density
If you don't know your hair density, please send us photos of yourself,
we can analyze your hair density by your photos.
- Heavy density is 150% thickness of an average head of hair
- Medium heavy density is considered 120% thickness of an average head of hair.
- Medium density is considered 100% thickness of an average head of hair.
- Medium light density is considered 80% thickness of an average head of hair.
- Light density is 60% thickness of an average head of hair.

Hair direction, parting





Left part Right part Center part



Left crown Right crown Center crown




Left comb over Right comb over Front to back

Hair curl

- When you enclose your hair sample we will analyze your natural wave pattern.




Straight Slight Wave 30mm Standard 25mm




???? Tight Wave 20mm Loose Curl 15mm Tight Curl 10mm
* Afro Curl 2-5mm (synthetic only)


Hair length



Indian or Chinese Human Hair
- Average length on all hair pieces are 5-7 inches. we can offer from 6 inches to 30 inches.